cometis conferences
Conferences are of central importance for capital market participants. Company representatives meet investors, analysts and service providers – and nowhere else is the opportunity for valuable contacts and open dialogue greater.
Together with our partners, we have established exciting conference formats: for example, the "IR" for Investor Relations professionals as well as the "sector conferences" as a link between companies and investors. This is how we bring together different stakeholders in a targeted way.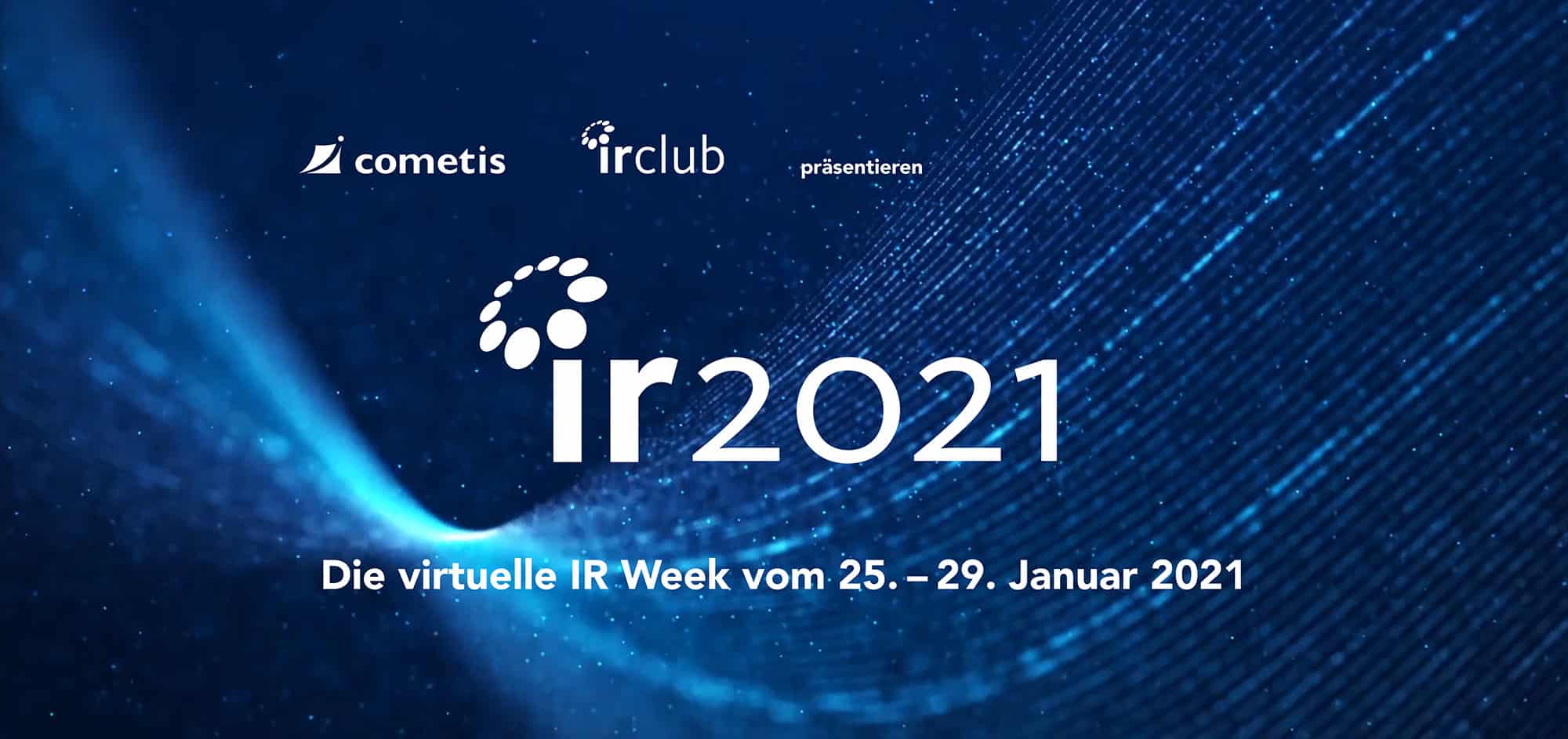 IR 2021
The Corona pandemic had a strong impact on our IR conference in 2021. For the first time, it was held in the digital world – therefore, we directly tried to make the best use of the opportunities. We turned one day into a whole IR Week: five days, eleven events, and 17 hours of presentation time. The German IR community knew how to take advantage of this. 1,428 registrations were received to learn about the latest developments and challenges in IR work. On average, our experienced speakers had an audience of 140. The average rating of 1.6 for the presentations is quite respectable! It shows impressively that participation is worthwhile because everyone can learn a lot at our IR Week.
IR 2020
With more than 200 investor relations professionals, the conference not only experienced record attendance, but also top ratings (Ø 2.0) for the presentations by the first-class speakers. Every single request to speak, every exchange that came about ultimately made the conference what it is. An event full of lively discussions and enriching conversations, offering the opportunity to gather valuable suggestions and tips for daily IR work. For this, we would like to express our sincere thanks to each and every one of you!
If you missed any of the exciting contributions or would like to read them again, you can download the presentations of the individual speakers as well as numerous impressions from our IR conference website.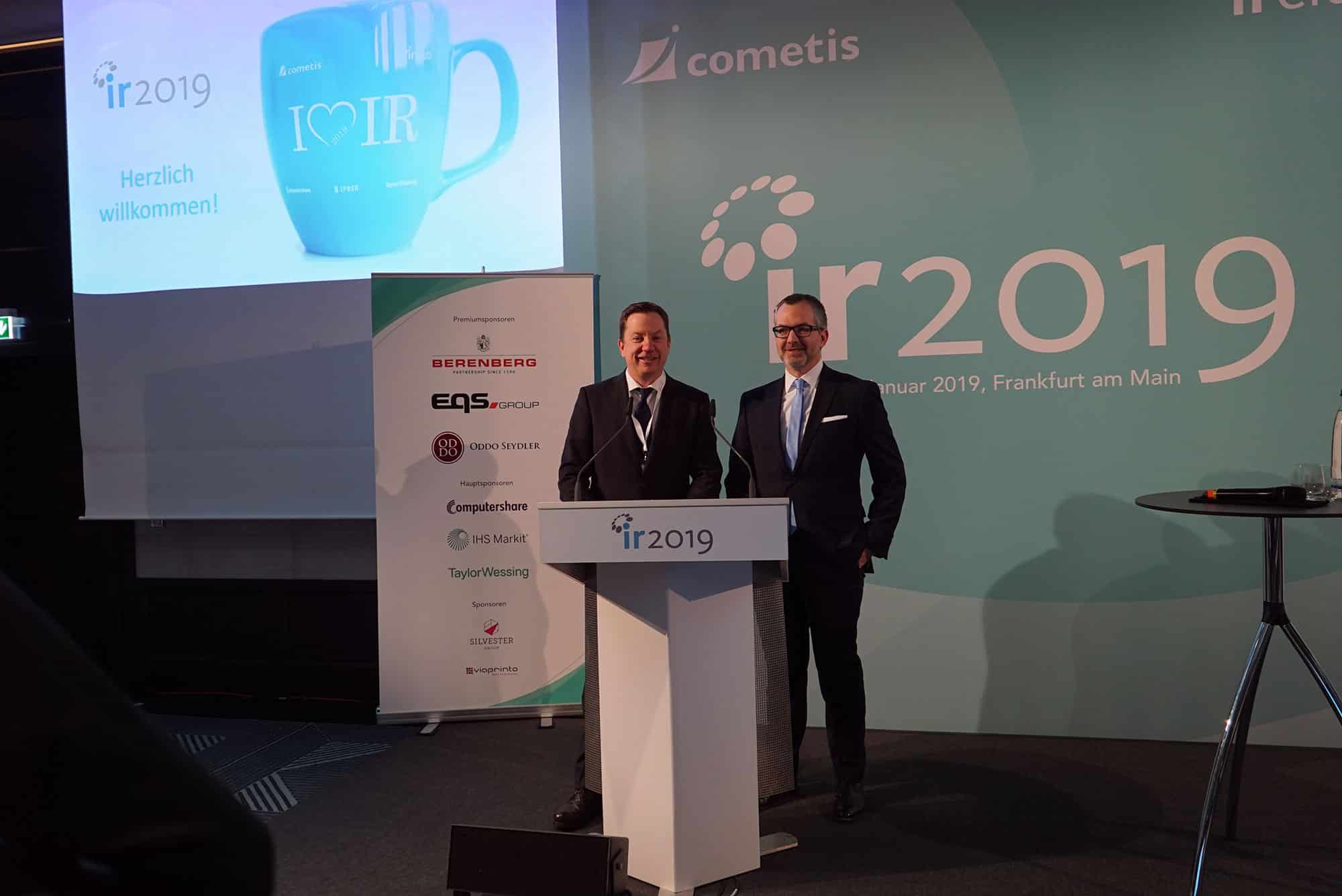 IR 2019
On Tuesday, 29 January the seventh edition of the "Conference of the IR Community" was held at the Sofitel Opera Frankfurt.: a full success!
More than 180 IR experts were present, exchanged views on current investor relations topics and benefited from 21 excellent presentations. The 38 speakers all held their presentations at a very high level and achieved an average grade of 1.9.
During the conference, the Institutional Investor Magazine Awards were again given to German companies that set best practice standards in IR. BASF received the award for the best IR program, Dr. Dominik Heger from Fresenius Medical Care was honored as best IR professional. Fraport won twice in the Small/Midcap category and received both the award for the best IR program and thanks to Florian Fuchs for the best IR professional,.
cometis AG and the IR Club would like to thank all those who made the event possible and look forward to hosting IR 2020 again next year.
The presentations of IR 2019 can be found online at www.ir-community.de as well as www.www.cometis.de.
IR 2018
On January 30, 2018, our Investor Relations Conference – the IR 2018 – was held in Frankfurt am Main for the sixth time.
Over the last years, the conference has established itself as a central event for the German and increasingly international investor relations community. This year again, it offered an exciting programme for the almost 200 participants: Renowned keynote speakers, inspiring presentations by IR managers, analysts and investors as well as podium interviews, panel discussions and room for personal networking between the programme items. A special highlight this year was the kick-off presentation by Chris Boos, CEO arago GmbH and pioneer in the field of artificial intelligence. Further topics of IR 2018 were Mifid II and the concrete changes in the market, Annual General Meeting – Trends 2018, Guidance, Initial Coin Offerings, Capital Market Days, Asset Allocation and many more.
The conference is held annually on the last Tuesday in January.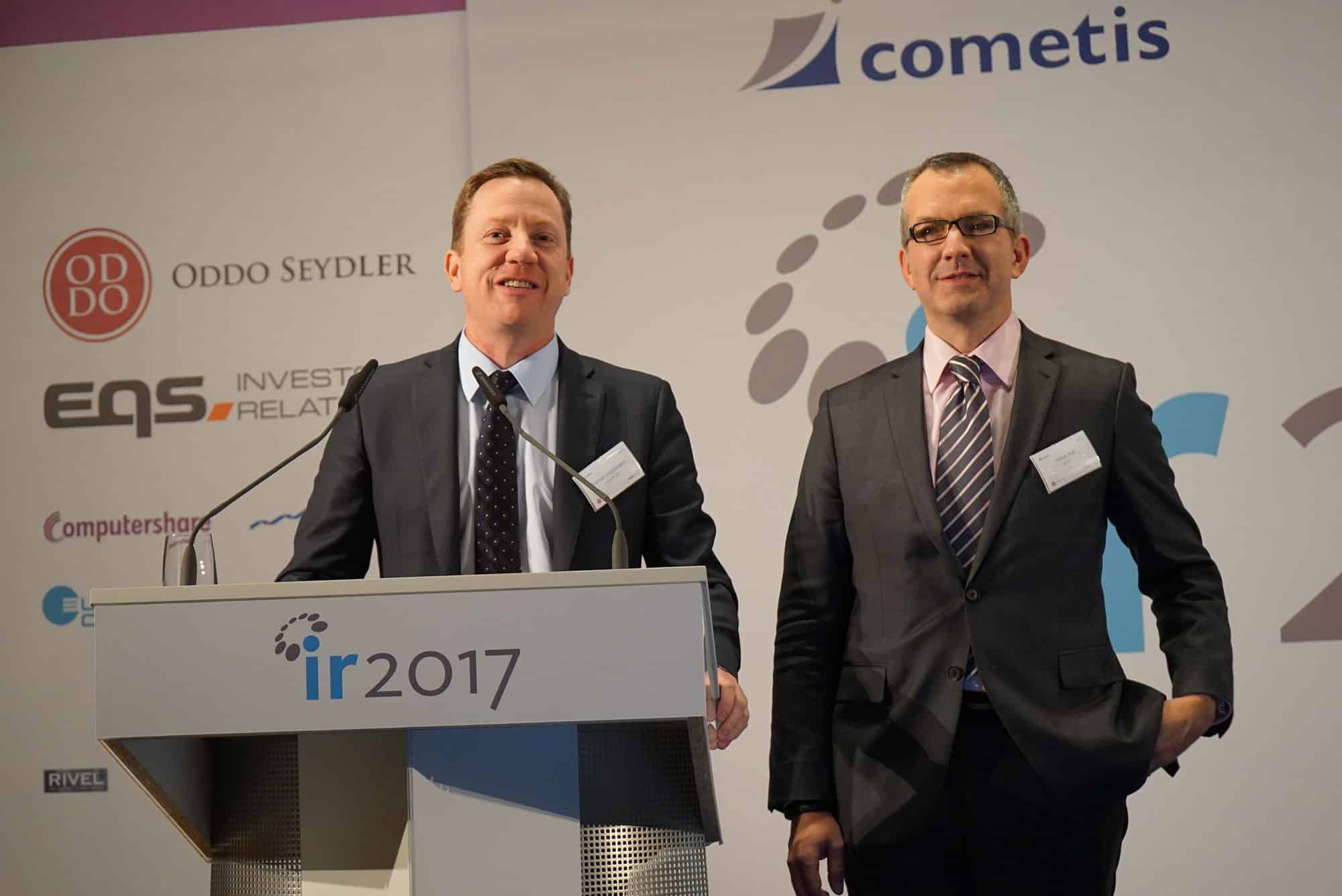 IR 2017
R 2017 with its enjoyable networking atmosphere and professional exchange at the highest level opened its doors once again in January. As in the previous years, we managed to welcome once again competent speakers from the whole range of the financial community. Interesting topics ranging from MiFID II and activist investors to the economic outlook after Brexit were actively discussed by the participants.
The enthusiasm for IR and the concentrated expertise on the participants' side provided an open atmosphere for networking and knowledge, where we developed a successful get-together in the financial center Frankfurt.
In cooperation with the IR Club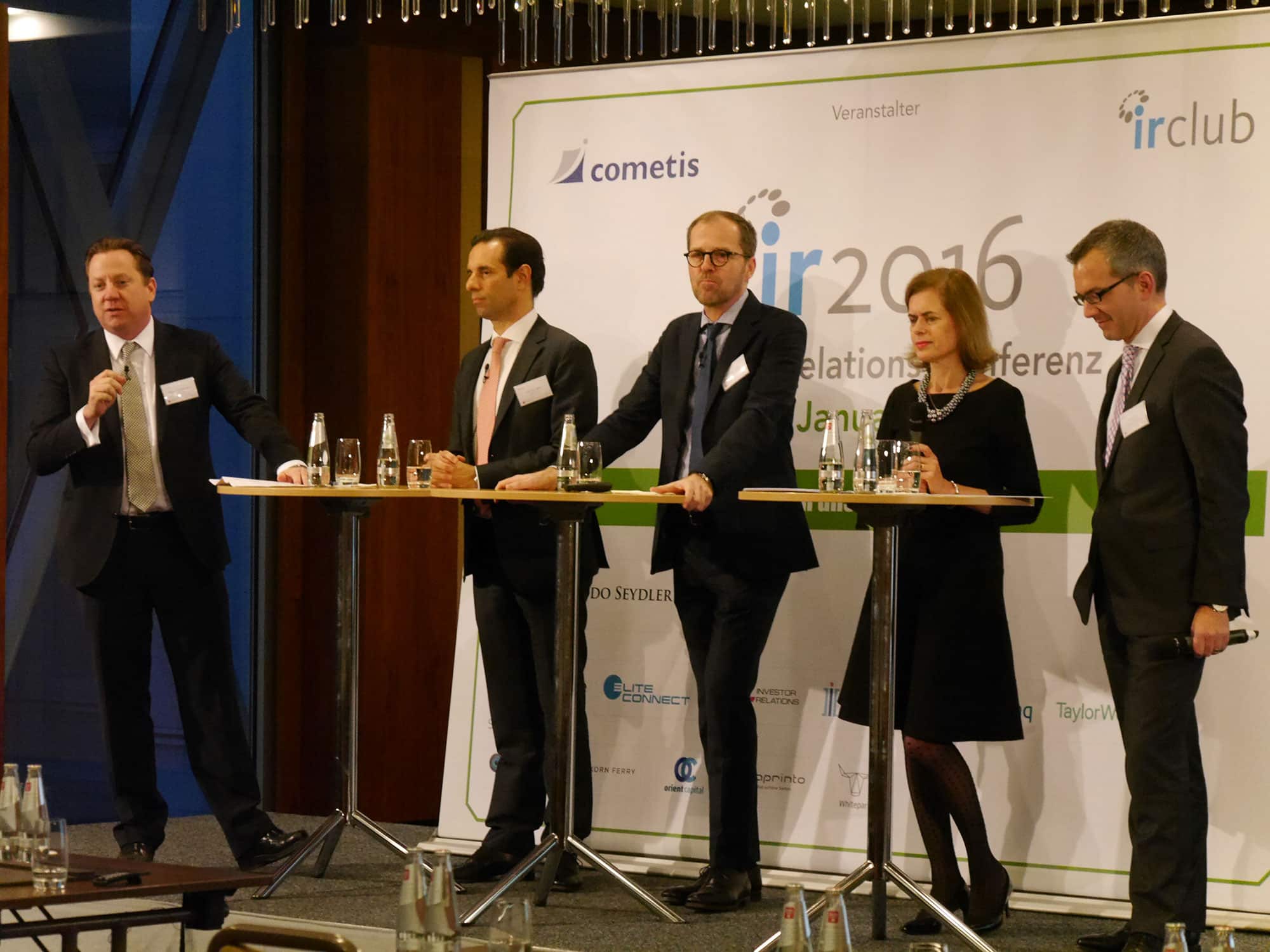 IR 2016
There are many conferences and events, therefore the challenge is to stand out from the crowd. For this reason, four years ago, we developed a new conference concept to inspire all those who share a passion for investor relations.
Strategic Investor Relations, IR work with the Supervisory Board, leadership, quarterly reporting – quo vadis? These were only a few of this year's topics, presented by our high-caliber speakers at the Hotel Jumeirah Frankfurt on January 27, 2016. And, of course, there were opportunities for networking.
We are delighted to be able to say after four IR Conferences: our concept has proven itself – an annual industry meeting in the financial center Frankfurt is a firmly established conference.
In cooperation with the IR Club.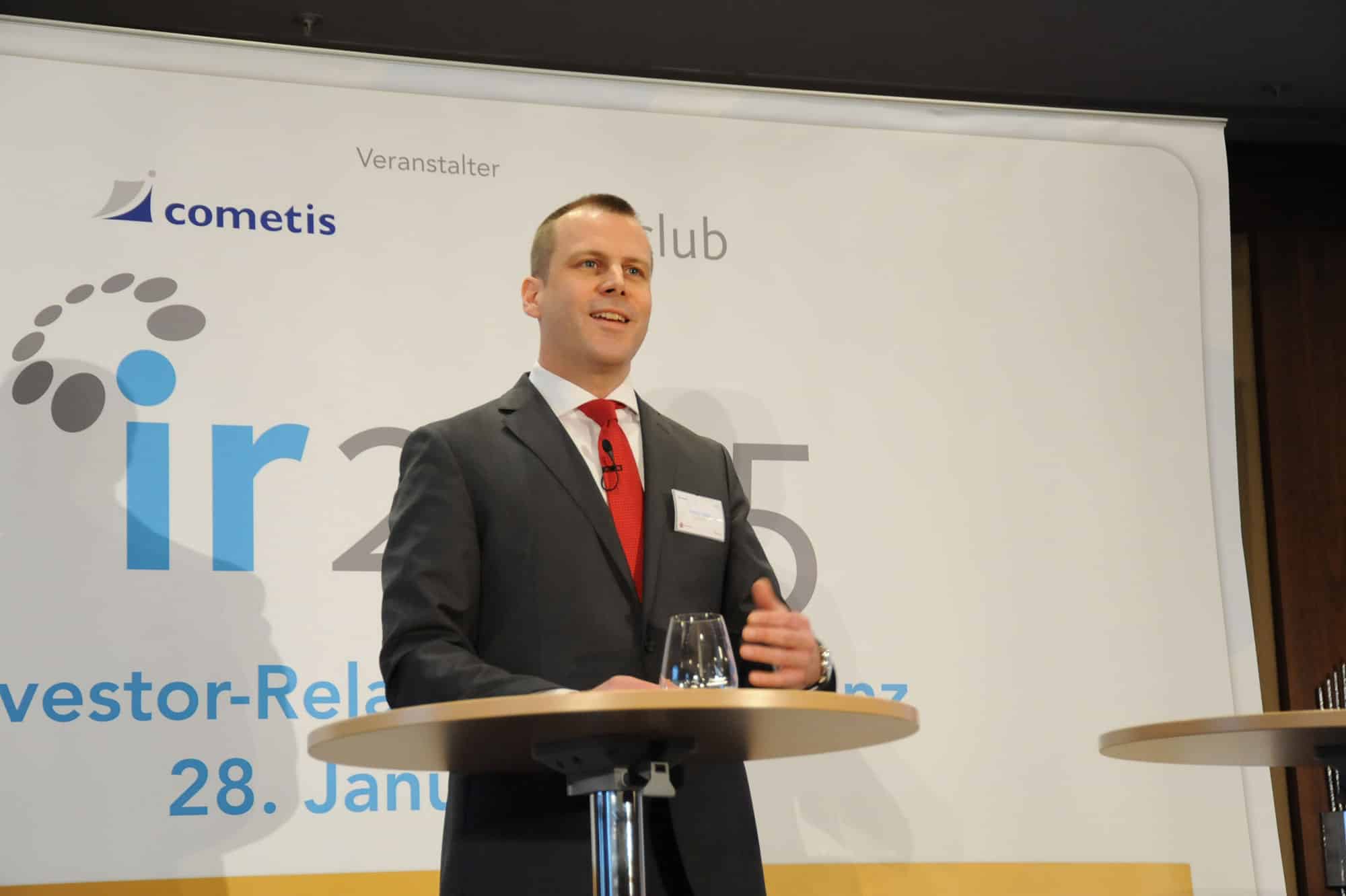 IR 2015
We already started looking forward to "IR 2015," which was held at the Jumeirah Frankfurt on Wednesday, January 28, 2015.
Networking, competent lecturers and discussions on current issues in the IR industry await you again. Together, we want to identify and discuss pioneering trends in Investor Relations that can give us important impulses for the future of IR work.
In cooperation with the IR Club.
IR 2014
cometis organized the investor relations conference "IR 2014" in Frankfurt on January 29, 2014, together with the IR Club. Whether during networking, in specialist lectures or discussions – "IR 2014" addressed current issues of the industry as well as identified and discussed future IR trends. The personal opinion of the participants was also the focus again thanks to a voting system.
In cooperation with the IR Club
Strategy evening for entrepreneurs, board members & directors
In Frankfurt on September 11, 2013, in a talk on "refinancing medium-sized bonds" during the strategy evening for entrepreneurs, Board members and Managing Directors, the organizers Andreas Wegerich (CEO, youmex AG), Pierre Drach (Managing Director, Independent Research GmbH) and Michael Diegelmann (CEO, cometis AG) gave insights into "lessons learned" from the latest issuances and explained opportunities and risks of recent financing alternatives.
In cooperation with youmex AG and Independent Research GmbH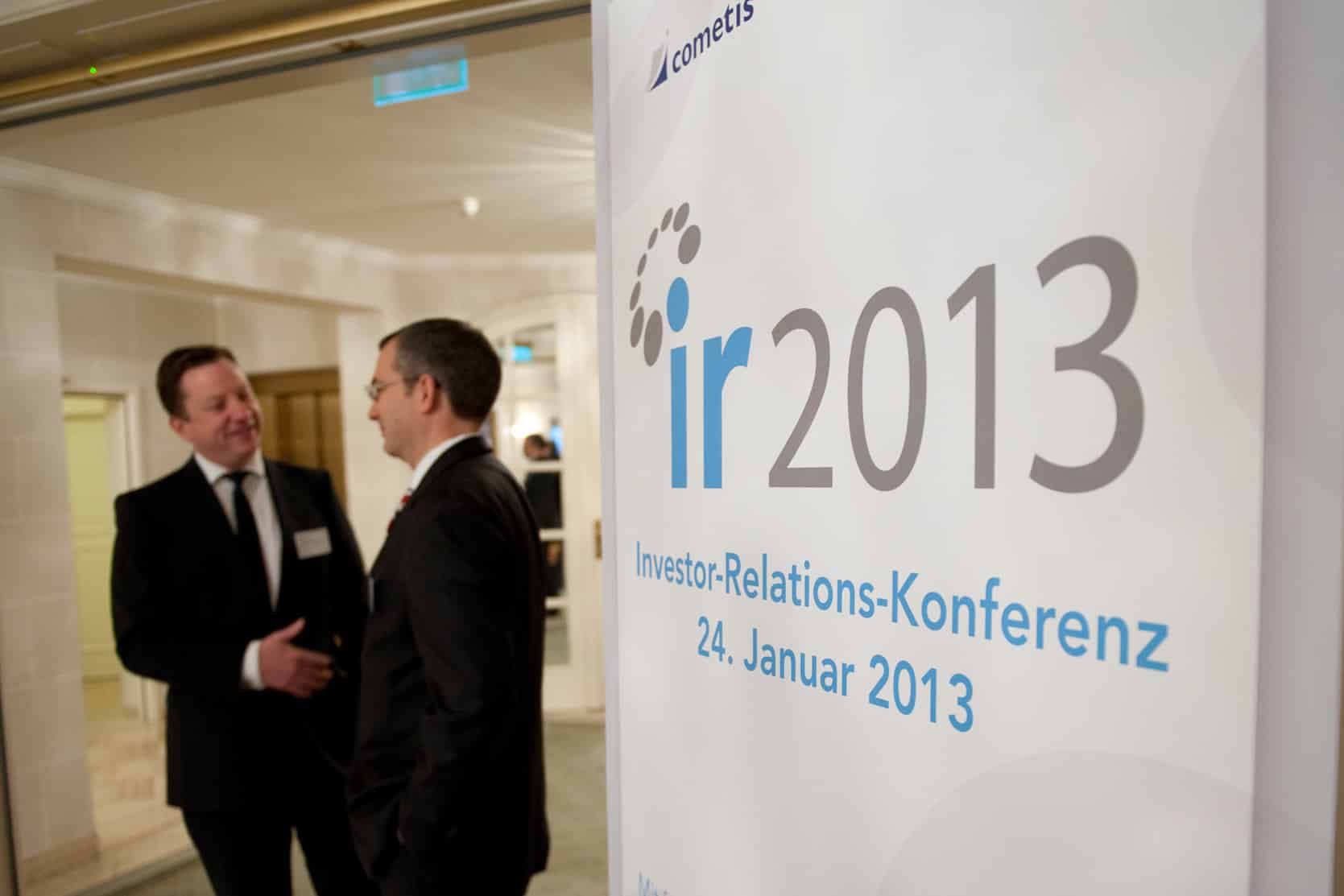 IR 2013
The first Investor Relations conference – IR 2013 – took place on Thursday, January 24, 2013, at the Hotel Hessischer Hof in Frankfurt/Main. With the aim of organizing an event for all those who share a passion for the subject of investor relations, cometis presented an interesting program together with the IR Club: in addition to investor, media and career topics, professional and personal skills came to the fore of presentations. At the same time, the participants' opinion was central: thanks to a voting system, each participant could actively contribute to the discussion.
In cooperation with the IR Club