Germany's IR consulting agency
with European investor access
cometis AG is one of the leading Investor Relations agencies in Germany. With our many years of know-how on the capital market and our sense of market trends, we constantly set new standards in
Investor Relations
in Germany. Our network of partners and competent local contacts reaches to all major financial centers in Europe and the world. In this way, we make contact with relevant investors, analysts and media for our clients and support them in achieving their ambitious goals in Investor Relations.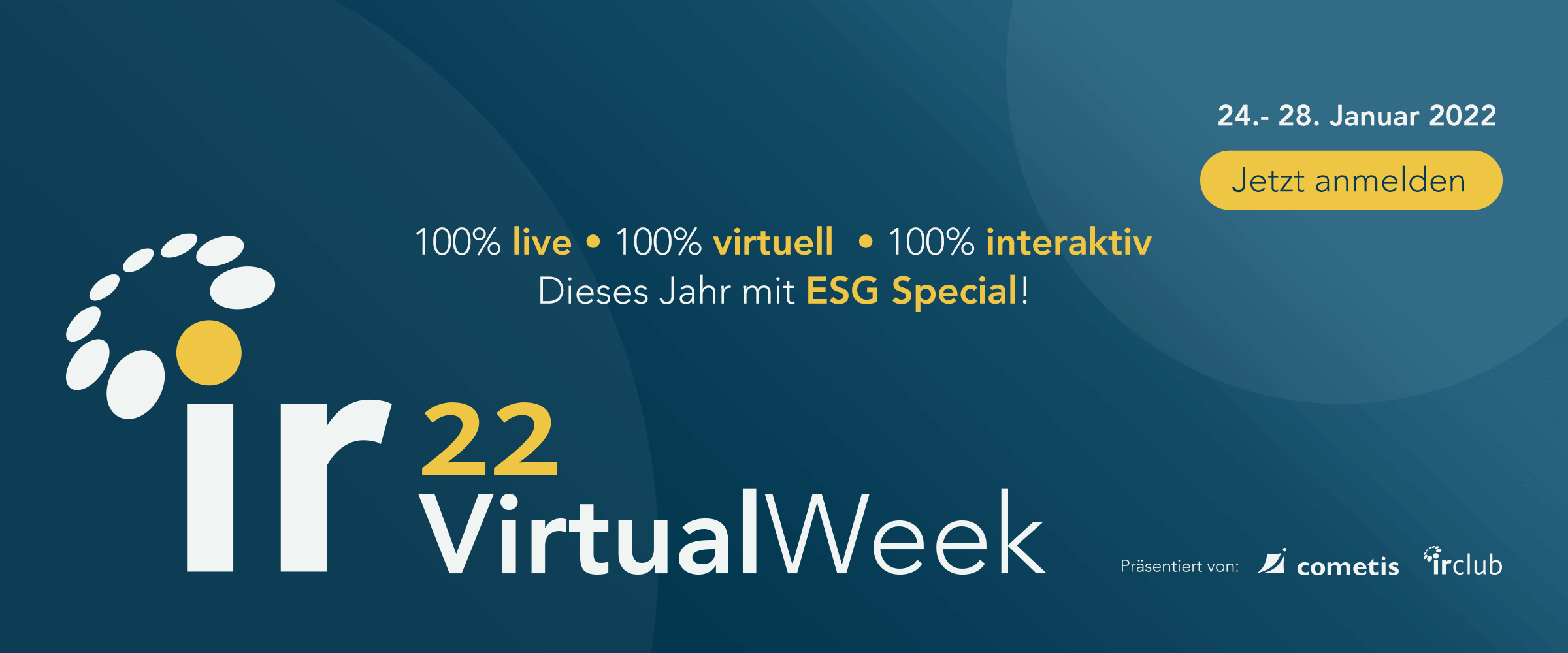 Five days and a top-class speaker program will leave nothing to be desired in 2022. From ShareID to ESG, from shareholders to stakeholders, from current issues to tomorrow's trends – let yourself be inspired. You can find the complete program on our website as of today.
ESG-Webinar from March 22, 2021
The year 2021 is shaping up to become the biggest year for ESG topics yet. In our cometis / IR Club webinar we discussed the latest developments in the fast-changing world of ESG reporting. Valuable insights and perspectives could be gained from high-profile speakers of SASB, DPDHL and AGI.
Financial and corporate communications
Our strategic IR consulting gives you better access to investors, analysts and the media, and can influence their opinions and decision-making processes in your favor. In the context of an M&A transaction or in crisis situations, communicative challenges arise for each company that require specific know-how in financial and corporate communications. As an IR specialist with many years of experience in numerous capital market projects, we help you to ensure uniform and effective communication with all stakeholders. Through professional media work, we increase the chance of your messages being heard in relevant financial and economic media and reaching your target audiences.
.
The clients of our IR consulting firm are, in particular, listed medium-sized companies. For our projects, we are in contact with members of management, Supervisory Boards and IR managers. Our broad services range from the organization of investor roadshows, the preparation of peer group analyses and consensus estimates to the preparation of financial reports and compulsory statements for the capital market.
If you do not have an in-house specialist for financial communication and investor relations, we offer you the possibility to transfer all the tasks of investor relations to our agency. For many of our clients, we are the first contact for investor relations consulting and advise the company on all relevant issues.
Find out more about our wide range of activities in investor relations.
"What is worth doing is worth doing right!"
Our team
In order to be able to supply modern strategic communication consulting, the team for our IR consulting unites the knowledge of investor relations managers, journalists, analysts, investment bankers and investors.
We have decades of experience, have won prestigious awards in the industry and work for first-class SMEs from Germany and all over the world. Our team has continuously developed over long-term cooperation with our clients. We are proud to say that we have helped to shape our market.
If you are looking for a team that is solution-oriented, thinks critically and has a first-class network of financial media, analysts and investors, then you are in the right place with us!
Our quality promise
Our understanding of service and quality is based on Disney World in Orlando, Florida. This is where the client and his satisfaction always come first. We have transferred this understanding to our IR consulting.
Before we start working with a client, we define specific goals together. From this, clear strategies and tasks are developed in the next step. Transparency is the result, so our clients are always clear on the point at which we meet at the respective time.
cometis in figures –

what we are proud of
News – 

News from cometis