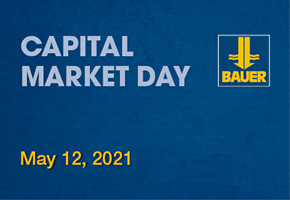 Dear Ladies and Gentlemen,
We are very pleased about your interest in the Capital Markets Day of BAUER AG on 12 May 2021 at 2 pm. The event will include presentations by the CEO Michael Stomberg, the CFO Hartmut Beutler as well as the Management Board members Florian Bauer and Peter Hingott and the Managing Director of BAUER Resources GmbH Dr. Roman Breuer. At the end of the event, we will offer you the opportunity to enter into direct dialogue with the speakers and ask your questions during a Q&A session.
Please register using the form below so that we can send you the access data. We look forward to seeing you!
Your BAUER AG
BAUER AG Capital Markets Day