"German IPOs & IBOs in the spotlight"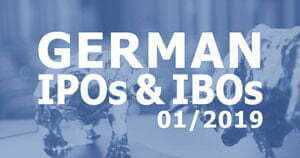 Wiesbaden, June 21, 2019 – The IPO market lost considerable momentum in the first half of 2019. According to the auditing company EY, the number of IPOs worldwide fell by 41% in the first quarter of 2019 compared to the same period last year. In hard figures, the volume of issues fell to 13.1 billion dollars, which is a decline of 74% compared to the same period last year.
Looking at the German primary market separately, it can be seen that, no large company went public in the first half of the year. Only 5 initial listings could be counted, including Frequentis AG, which specialises in safety-critical information and communication systems. On May 14 this year, the Austrian company successfully went public on both the Frankfurt and Vienna stock exchanges.
Will the IPO market pick up speed now? According to EY, there are positive prospects for the second half of 2019. The last two quarters of this year should become the time of the tech companies. In Germany, the Volkswagen subsidiary Traton is eagerly awaited to go public. Volkswagen plans to float the truck division on the stock exchange before the summer break. The total value of the subsidiary is said to amount to 25 billion euros. The aim is to be listed on the Frankfurt and Stockholm stock exchanges. This could motivate further issuers to go public in the near future, after Continental has postponed the IPO of its drive technology division for the time being until 2020.
Always well advised with cometis
If you are planning an IPO or still need support with your IPO, cometis AG is your reliable partner for your IPO communication. Please visit our IPO section on our website to find out more about our wide range of services in IPO communication.