German IPOs & IBOs in the spotlight – 02/2018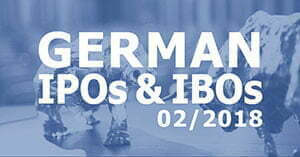 Wiesbaden, 10 August 2018 – The worldwide IPO market lost momentum in the first half of 2018. According to a recent study by EY, the number of IPOs fell to 325 in the second quarter, 26 percent less than in the same period last year. This has also had an impact on the issue volume, which fell by a total of 19% to 45 billion dollars. Geopolitical tensions, which lead to an increased risk aversion in the financial markets, are cited as possible reasons for the uncertainty. A look at Germany discloses further newcomers following the already strong start to the year. creditshelf Aktiengesellschaft, a pioneer in the field of digital SME financing in Germany, successfully made the leap onto the stock exchange. Since July 25, 2018, the shares have been traded on the regulated market (Prime Standard) of the Frankfurt Stock Exchange. In addition, the probably second largest IPO of the year is already in the starting blocks. Knorr-Bremse, the world market leader for train and truck brakes, is planning its initial listing in October. It is estimated that the IPO will generate approximately 4 billion euros. This result would be comparable to the proceeds of Siemens Healthineers, which generated issue proceeds of 4.2 billion euros in March.
Always well advised with cometis
If you are planning an IPO or if you still require support for your IPO, cometis AG is your reliable partner for your IPO communication. Find out more about our wide range of IPO communications in the IPO section of our website. IPO communication.