Over 500 SPACs in the USA: Opportunity for German growth companies?
SPACs are experiencing an all-time high in the US since the Corona year 2020. However, the "IPO through the back door" also requires good preparation and strategically clever communication. Even if the SPAC process simplifies some things about going public, there are still important tasks ahead for the IPO-goer. Would German companies be confronted with more opportunities or risks?
by Michael Diegelmann  
Wiesbaden, September 10, 2021. 248 SPACs went public in the US in 2020. More than ever before. And there have already been over 400 such IPOs there this year as well. At first glance, this is a great opportunity for German SMEs. An initiator sets up a special purpose company to take over another company and raises money from investors to do so. This company is an empty shell as it has no business activities of its own. This makes it much easier to take a SPAC public than an ordinary company. For (German) growth companies, this can be an advantage.
At this point, the investors do not know which company they will ultimately buy up and take public. They only know the industry and the criteria that the initiator uses to select the company. The initiator then has two years to find a suitable company, merge with it and thus bring it to the stock exchange "through the back door".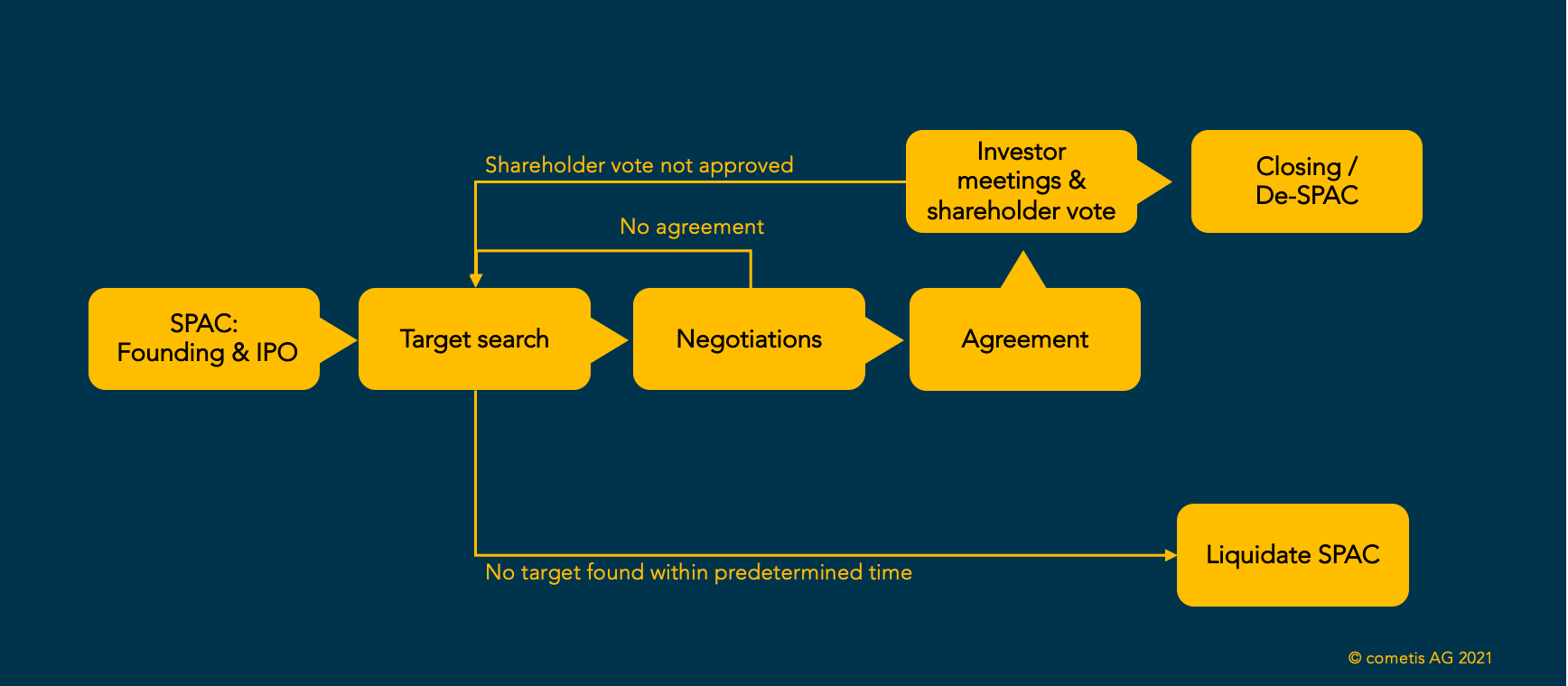 Does a SPAC really make the IPO easier?
The acquired company goes public without the complicated and costly IPO process. Investors are already in place, the requirements have been met, and the company is spared a commission. But if you now believe that the IPO-goer can relax and observe the SPAC process from the outside, you are wrong. You also have to plan a SPAC IPO precisely and accompany it with communications. This is more complicated than it might seem at first, especially if the SPAC is listed in the USA, because there are many follow-up obligations for you.
Communication challenges
First of all, you have to convince the SPAC initiator of your company. To do this, you need a convincing story in which the topic of ESG must also play a key role. A good equity and ESG story do not fall from the sky. You should therefore be professionally coached and intensively practice the all-important interview. If a SPAC initiator turns you down, your further search will be difficult. Bad news travels fast. Go into your interview well prepared and convince with a good presentation.
You also need to plan media outreach both in your home market and additionally in the US. The risk of leakage is very high – the respective industry and media keep a close eye on promising companies. Be prepared for leakage and consider how you will handle it beforehand. The company board, assistant board and PR team need to know what to do and say in an emergency. In the US, there are strict rules about what information can be communicated and when.
Post IPO the marathon begins
During the SPAC process in the U.S., you'll need to gather key documents, create investor presentations, build a full IR website, and establish a communications plan for suppliers and employees. You will also be required to provide a variety of post-merger information and communications to the SEC. After the IPO, you will have many follow-up obligations. A SPAC in the U.S. is a complicated, but not impossible, path to the stock market. The expectations are different and much higher than in Germany, all drafts must be written in English. In addition, the legal system in the USA is different and you will have to familiarize yourself with it. At the same time, you must not forget your home market and provide it with the necessary information.
So you can see that even with a SPAC there will be quite a bit of work to do. You need to approach all these different steps in a structured way in order to stick to the fixed schedule. As soon as you announce your IPO, your company story should be fixed, the targeted interviews, announcements and information should be ready and waiting to be released. You must strictly follow the Communications Guidelines. You should firmly build the topic of ESG into your communications plan, because the impact of your company plays a crucial role (not only) for SPACs. So, even with a SPAC, it pays to trust in the help of a communications professional and let them help you.
You need support with the optimal SPAC or IPO communication in the USA and Germany. We are happy to help you. Get in touch here.
---
Michael Diegelmann: Founder and Board member
Michael Diegelmann has taken over 50 companies public and has gained experience in over 250 investor relations and ESG projects. He has been active in the field of capital market communications since 1997 and is a proven expert in ESG topics.