5 tips: How to make your application a success
Wiesbaden, July 09, 2021. An application always brings with it many uncertainties: What information should be included? What does the company value? How do I behave at the job interview? The following five tips can help you submit a successful application.
by Michael Diegelmann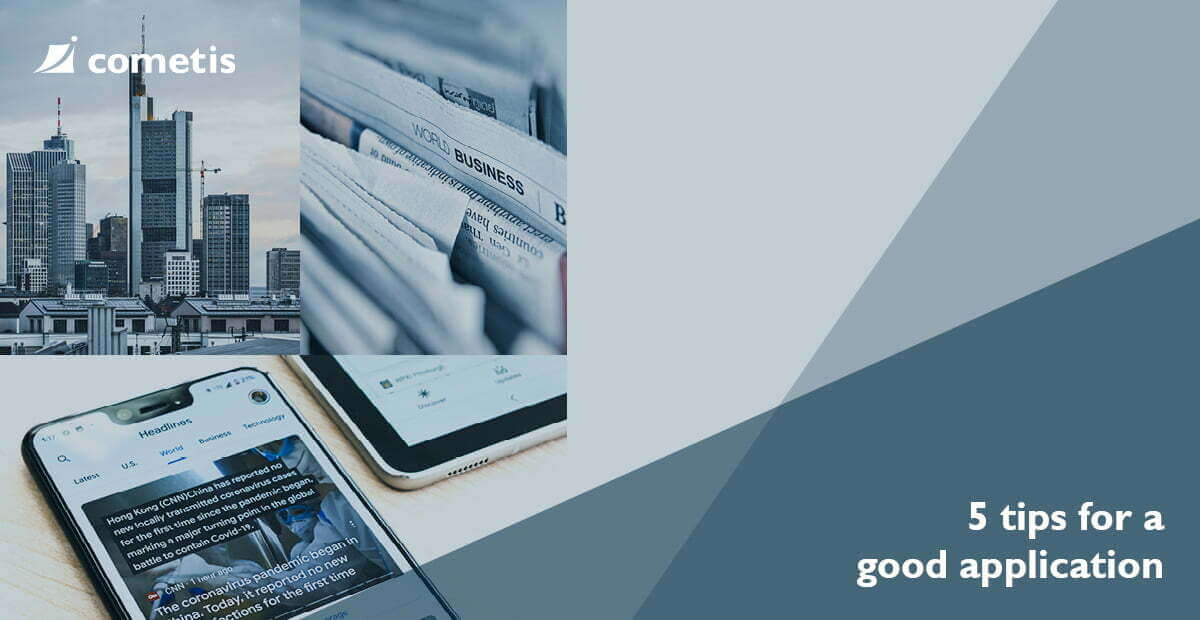 1. The cover letter
On the Internet, you can often read in application tips that the cover letter is becoming less and less important, and that personnel managers only pay attention to the resume due to limited time. Whether this is actually true is questionable – at cometis, the cover letter is still very important. The most obvious mistakes are immediately noticeable in the cover letter: is the company name spelled correctly? Is it addressed to the right person? Spelling mistakes also catch the eye and make the cover letter look sloppy – so applicants should make an effort to avoid these.
We at cometis pay particular attention to why the applicant is a good fit for us and why the person is applying to us. You should therefore be sure to answer these questions in your cover letter. Emphasize your interest in the company. The cover letter should not be a copy-and-paste document that you send unchanged to countless companies. Empty, impersonal passages stand out and leave a bland impression. The quality of the cover letter's content says a lot about the candidate's personality and rounds up the entire application.
2. The resume
In the resume, we pay particular attention to what experiences the applicant has already made. Experience abroad is highly valued, the applicant is able and willing to get involved with new things and is open to other cultures. We also like to see practical experience – whether as a waiter or consultant in a well-known agency. The main thing is that the experience has helped the applicant develop. We also take a look at grades. Additional to that, any gaps in the resumes should be explainable by the applicant.
3. Application picture: Yes or No?
Whether or not you wish to attach a photo to your application is, of course, up to you. We invite applicants with and without a photo. An application photo can look appealing, but it is not the deciding factor. However, if you decide to attach an application photo, it should definitely be a professional photo, both in terms of background and outfit. The application photo should express a certain appreciation. After all, the whole application should be meaningful and show the interest in the company.
4. Brevity is the spice of life?
Do not overload your application with attachments because you are unsure what belongs in it. Basically, applications should be clear and compact. We like applications that are neatly bundled into ZIP files. This simple bundling of multiple files shows that the applicant has at least a basic technical understanding. The resume should be no more than one to two pages long, and the cover letter should be about three-quarters of a page. A well-crafted application can make up for a lot – so applicants should place great emphasis on completeness.
5. The job interview
In the job interview, you have the chance to introduce yourself personally to the potential employer. Show your interest in the company and do not give the impression that you are just looking for any job. It is best to inform yourself in detail about the company beforehand. During the interview, avoid basic questions like, "What do you do exactly? "This comes across as unprofessional and disinterested. Also, be prepared to tell about yourself. The following also applies to the job interview: preparation is key!
It is important for us to get the impression that the applicant has informed themselves about the company and can identify with it. Make it clear once again why exactly you are applying to this company. Show why you are well suited for the advertised position and what experience qualifies you.
Conclusion: Every company is different, of course, and has its own demands on applicants. However, certain basics are self-evident and give a good impression to all employers. Make an effort and create an individual application – then the company will certainly be interested in getting to know you personally.
---
Michael Diegelmann: Founder and Manager
Michael Diegelmann has gained experience in over 150 communications projects (IPOs, investor relations, M&A, crisis) and has been working in the field of capital market communications since 1997. He is the author of 16 book publications relevant to the capital markets and was formerly project manager at an international consulting firm and a Frankfurt brokerage house.