ESG: The role of companies
As unsustainable business practices become more visible, environmental, social and governance issues are becoming increasingly important for companies. For long-term success, companies must not only achieve financial results, but also demonstrate that they make a positive contribution to society. How can ESG practices be integrated into companies? What is the current legal situation? And what does it mean for your company and your future?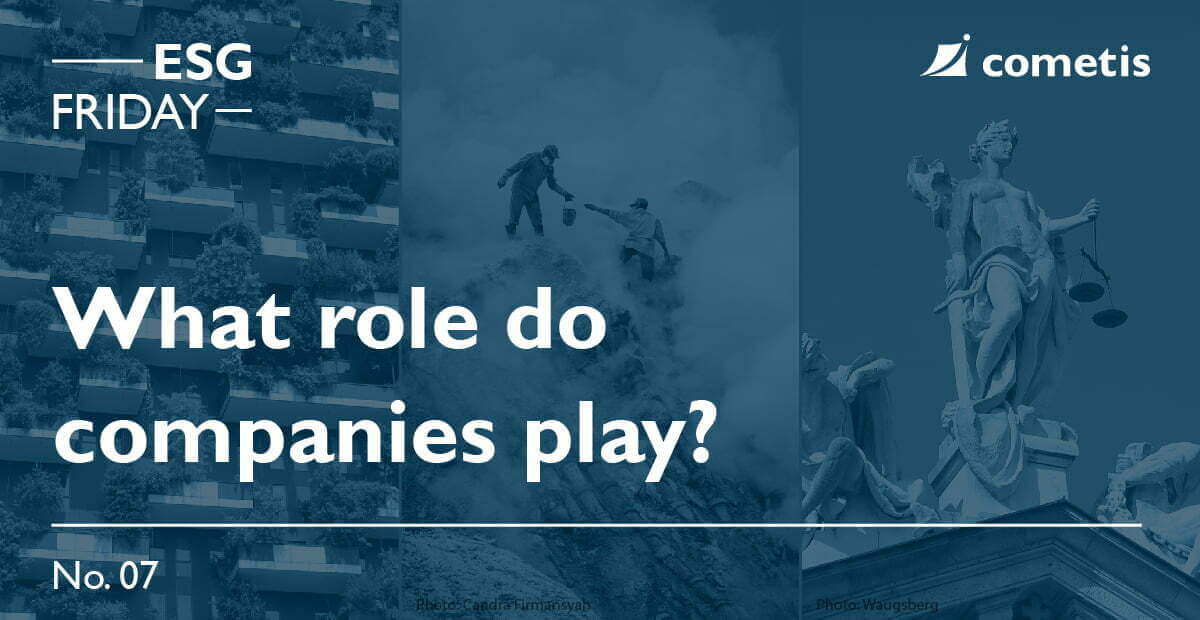 The company as the driving force in the society
Today, companies have a responsibility to influence and work towards a more sustainable economy. To this end, the legislator provides for various measures to ensure that the topic of ESG is integrated into the strategic orientation and business model of a company. As a consequence, the reporting obligations for companies are becoming increasingly extensive and demanding. Many companies are already subject to statutory reporting obligations. The documentation obligation is intended to provide stakeholders with the necessary transparency and ESG comparability so that they can better understand the activities of companies in ESG matters. Failure to provide information, on the other hand, leads to far-reaching consequences.
Companies can live up to their responsibility by regularly preparing sustainability reports. A high-quality report can convince numerous stakeholders of their own company in the long term. In order for this to succeed, it is important to find out which ESG topics are relevant for your company. The more the key ESG issues are supported by data, management systems and case studies, the more convincing.
Pressure on companies and regulators
For many stakeholders this is not enough. International NGOs have created frameworks that develop reporting standards to put pressure on companies and regulators. These voluntary frameworks serve to better structure companies' non-financial reporting and are designed to make ESG differences comparable and progress more transparent. Renowned frameworks include the Sustainable Development Goals, the UN Global Compact, the Sustainability Accounting Standards Board (SASB), the GRI and the German Sustainability Code. For example, rating agencies use the guidelines of the frameworks to determine the weighting of industries for their ESG ratings. Countries such as Sweden oblige companies to use the framework, for example according to GRI. This makes it clear that the commitment of companies to frameworks has not only gained in importance in recent years, but has become a matter of course.
What needs to be checked?
Capital-market-oriented corporations with more than 500 employees (annual average) must add a non-financial statement to the management report. For this purpose, the company's business model must be described. On the other hand, the non-financial statement must refer to five aspects: environmental, employee and social concerns, respect for human rights and the fight against corruption and bribery.
This requires disclosures necessary for an understanding of the company's business performance and results, its position and the impact of its activities on the five aspects mentioned. The last point includes a description of the concepts pursued by the company and their results as well as the significant risks associated with the company's own business activities and products/services. Furthermore, the management of these risks by the company and the main non-financial performance indicators must be explained. The basic principle is "Comply or explain". If no concept exists for one or more of the five aspects, this must be explicitly mentioned and justified. Audit firms also ensure the accuracy of the information in the sustainability report.
ESG in the supply chain
To survive in the global competition for markets and investors, companies are required to optimize their entire value chain according to ESG criteria.
Because in the expectations of society, corporate responsibility now encompasses the entire life cycle of a product or service, from the extraction of raw materials to recycling and disposal. Emissions data and information on safeguarding human rights are increasingly in demand. Companies play a decisive role here: as customers, companies can obtain information, and as suppliers, they can provide information.
The obligation to collect and disclose information may affect you even if your company is not covered by the CSR RUG. For example, as a supplier to other, larger companies. If they are subject to CSR reporting obligations, they usually have to report on their CO2 scopes. Issues such as "emissions from purchased goods" fall under Scope 3, for example. With a good ESG strategy and good reporting, you can be well prepared to deal with possible inquiries about production emissions.
No ESG overview? We help you to meet this challenge and make you sustainably ESG-fit.
Click [HERE] to learn more about the ESG competencies of cometis.